hey hey hey it's friday! hooray for that!! i swore to myself that i would never do this, but there are just too many fabulous bloggers out there for me not to do this, so here we go, my blogging crushes,
camp patton
this woman is hilarious. she is so well spoken, so funny, and manages to keep her funny amidst her chaotic life of 5 kids. you know when you need to catch up on your blog reading and you decide to tackle one blog at a time so you start reading a blog and read 7 posts in a row and then get sick of the writer and switch to a different blog? that is not the case with grace of camp patton. i could read post after post after post after post of hers and would not get bored or tired of her. she is witty and somehow manages to dictate the average daily activities of a mom into a hilarious, intriguing and involving depiction of daily life. i don't know how she writes that way but i envy it. i wish i could write the way she does.
found love now what
belinda of found love now what is the person whom i aspire to be. she is
the most
positive person i have ever "met." i want to be like her. she is my role model. i want to be like her. she has no patience, no room for any negativity and doesn't put up with it. she finds beauty in all things. she takes life by the horns and is adventurous. i can't tell you how many times i have been having a bad day and thought 'i just need to read some belinda and then i'll feel better' and that
always
works. i hope she knows what a positive impact she has on her readers. what i would give to meet her in real life!
love taza
the first word that comes to mind when i think of taza is "color." first of all, i envy her closet and want to rob it, (but i want naomi, i wont) and is also has the kids that you just want to plant kisses after kisses on. taza is sweet and i view her as celebrity status. like if i saw her on the street, i would run up and ask for her autograph. she just
looks
like a celebrity, doesn't she? she is also one of the only bloggers who i have seen who has managed to turn her blog into an actual business. like, on the fast track to forbes list. she has endorsements and is always collaborating with this company or that. she is something that i aspire to career wise, for this itty bitty blog of mine. i remember reading her blog when i was a freshman in college, when it was itty bitty and just growing and she was newly married. oh how life has turned.
a cup of jo
joanna. joanna joanna. her blog isn't just a blog. it's a magazine. that is what i love about it. a former magazine writer, she is the only blog i can see that looks and acts like a magazine. she has posts on every topic and is organized so you can easily access each topic such as beauty, fashion, motherhood, relationships, design and food. i love it. she has tips and tricks for every one of these topics and i have full faith that she could turn it into a print magazine if she wanted to. and i hope she does. it is unlike any other magazine out there, and i love it. love it love it. and love her honesty with her readers, her dedication to give her readers new information for all topics and to keep us coming back. this girl knows wassup. and she is wicked smart.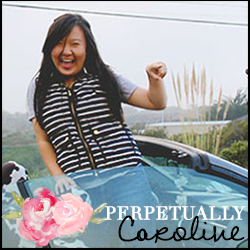 speaking of wicked smart, caroline goes to stanford and is one of the funniest bloggers i have come across. while in san fran area in february and staying with my cousin who lived just a few miles from stanford, i tried to meet her, but the stars did not align. caroline is adventurous and writes about her day to day life in the way that makes you go "oh yeah! meee tooo!!! i don't do laundry either sometimes! i lay in bed watching gilmore all day too! thank you for admitting that!" she talks about the things i am too afraid to talk about, and for that i am grateful. now if i could wipe the green envy off my face from everywhere she has been and the globe trotter she is, then we could be friends. and she has lived in nyc. green with envy. it's okay caroline. i can put my envy away so we can still be friends.
venus trapped in mars
there's something about sarah i just can't quite put my finger on it... but when i open up bloglovin' i first go to her blog. i really think it largely has to do with her blog design. i'm in love with it. i can't stop looking at it. and also. sarah is fun. sarah is honest. every time i read a post of her's, i feel like we are sitting down at lunch just chatting. she has that uncanny ability to make everyone feel like they are close to her, friends with her, and are just chillin' over margaritas with her each time they read her blog. that's why i keep coming back, i think. it's just like hanging out with a friend.
speaking of blogging crushes.....
i have teamed up with
helene in between
to give you a chance to win $175 to kate spade! a note from helene...
With the summer heating up, so should your wardrobe! I've teamed up with some lovely ladies to give you a chance to win $175 to Kate Spade. Enter in the rafflecopter below!