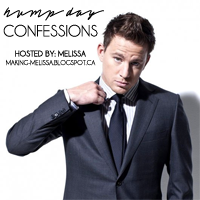 i confess... that i am running out of ideas for posts. i have written soooo many guest posts lately that i have no ideas for this here blog. it is a problem. the only idea i have is for me to interview myself. or for a blog friend to interview me. i am
so excited
about belinda's
blog everyday in may
challenge! this will be so good for me and will be the perfect way to get out of my blog slump. i feel kind of ashamed because i have written about how
i don't believe in writer's block
and i don't, i really don't, i know that if i sat and stared at the wall and forced ideas out, they would flow, but i haven't had the energy because i just want to cuddle with my husband or read people magazine or watch tv. i do believe in laziness. that sh** is real.
i confess.... that you have no idea how much strength you have until you are forced to be pushed to your ultimate limits and be stronger than you thought you could be. that saying "she was strong because she had to be" is incredibly true. life is crappy, unfair, beautiful, a roller coaster, and joyful. last year at Christmas, taran and i had a life plan. it was intact and it was a solid life plan. we both had very good jobs and steady, very good income. our plan was to pay off our debts in two years, save for year and travel to our bucket list places during that third year, then buy and house and start a family. it was a great plan. but i remember so well saying to taran "if you want to make God laugh, make a plan." i knew i wouldn't work. and then i lost my job, then taran lost his job, other bad things happened, and our plan was completely thrown out the window. but oh well!!! we still have a good life, taran just got offered a new job, i have a job that i love, we are so blessed. it doesn't matter that our plan was thrown out the window. i don't care. i want to do what God wants us to do. He knows better than we do. when you are down to nothing, God is up to something. read that on pinterest. :)
i confess... that birthday season is in session!! we had my brother in law's birthday yesterday, my niece's birthday on friday, my nephew's birthday on tuesday, my sister's on the 9th, mine on the 29th, and my niece's on the 31!! may is a busy month! plus my parent's anniversary is on the 7th!! 32 years!!
i confess... that i have nothing else to confess. except that i am tempted to talk about how well i am working out but i hate it when people do that so i won't.
and
DON'T FORGET
that tomorrow is the you are beautiful linkup!!! write something you love about yourself or something positive about your body, something you did that was awesome, anything to promote self love and positivity about yourself!! grab the button and linkup TOMORROW!! don't forget!!!
peace out.
xoxox