today i am so excited to be part of Casey from
we took the road less traveled
's fresh face friday blog hop! i have been a fan of her blog for a long time and have wanted to participate in FFF for so long!! i am so excited!!
movies were a large part of my childhood. so i thought it would be fun to show you the five movies i grew up with. these are movies that we watched on repeat, all the time.
with a family of four daughters and no sons, this was our movie. this was my sister's and i's movie. the movie. we would sing the song all the time and watch it on repeat. i can quote every line from this film. i think we even dressed up in 80s clothes and made a music video singing to the song and recorded it on one of those really old camcorder. oh, the 90s. it was a huge camcorder. that was like the size of a toddler.
oh my gosh this movie. this is a doxey family classic. we watched it all the time as a family, from the time i was like, 7. i had this bit where i went around telling everyone "then why do i see fear behind your eyes" and everyone thought it was sooooo hilarious and that i was sooooo cute.
i come from a family of performers, so this movie was a favorite in our house. have you seen it? if you haven't, stop what you're doing and
rent it on amazon instant for $3
because it is one of the FUNNIEST MOVIES IN THE WORLD. christopher guest is a GENIUS and he has made five (that i know of) movies that are equally hilarious. and they all have the same cast and they are all amazing. i love watching movies with my dad because his laugh is really contagious. his face gets all red and he nearly cries when he watches that movie because it is
soooo funny.
"these mashed potatoes are so creamy." just a phrase from this movie that we said as a family around the dinner table. we love this movie, i can quote every line. i can with all of these. this movie is so romantic and sweet. it's on netflix! go watch it!!
i saved the best for last. let me explain something to you first. my dad is not someone who likes tv or movies. he likes to read autobiographies on presidents and books about the economy and dislikes all movies in general. but this movie. this is
his movie
. i have such good memories watching this movie with my family. and around the dinner table, we would moan while we ate like bob does in that one scene and we would do it until someone said richard dreyfuss' line "will you stop that!!!" and then my dad would laugh and laugh and oh what a fun dinner we would have. okay, i need to go watch this movie right now.
rent it on amazon for $3
now don't forget that i am now accepting sponsors! use code KICKOFF for 30% off any ad!
and now it's time for the blog hop!! hop around, and enjoy! take it away casey, to explain the rules!!
Welcome to the
FRESH FACE FRIDAY BLOG HOP!
Rules for hopping:
1| Follow your host & co-hosts (first 3 links), pretty please!
2| Link up your blog's homepage or Bloglovin' page.
3| Hop around, meet new bloggers, and leave them love!
4| Have fun! Spread the word and share this blog hop with your friends!
5| Want to be a co-host? Click here for more info!
Grab a button and share the blog hop love!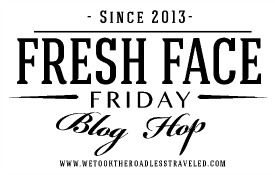 Tweet about this blog hop!
Tweet